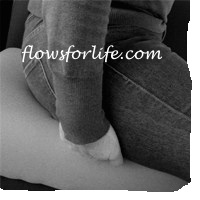 This is a wonderfully simple yet dynamic self help exercise that works like magic (especially if you do it every day).
Sitting on your hands at least 20 minutes a day takes fatigue out of the body. It also releases lactic acid from the muscles so it's great to relax after a work out – no more sore muscles!
It keeps the body fit and toned.  So it helps reduce thick thighs and tones the bottom (yeah!).
It's been said that sitting on your hands for 20 minutes is equivalent to running 3 miles! Mary Burmeister used to call this self help hold "The lazy man's jog". I love it!
Sit On Your Hands
Just sit in a soft, comfortable chair and place your right hand, palm up, under your right buttock (where the sit-bone is). Place your left hand, palm up, under your left buttock (where the sit-bone is). Or you can lie down and do this hold – great for a quick power nap.
And speaking of power naps, see the post where I explain how this exercise relieves that horrible 'hang over like feeling' when you haven't slept all night:
Jin Shin Jyutsu Self Help Hold for Fatigue