Jin Shin Jyutsu Global Events
March 2019: Update to this post. This was an invitation for one of the first Global Events that took place across the world in September 2014. At the time, people in over 30 countries participated. We are currently up to 44 participating countries. Regular Global Events take place. For more information go to Facebook Global Events
The self help exercises practised during the event are timeless, and can be used at any time.
Dear Friends
This is an invitation for you to join us for a global event to help harmonise chaos in the world.
This event will take place on Saturday, September 6, 2014 at 6 pm YOUR TIME, where ever you are, for ONE HOUR.
The idea is that this will create a domino effect across the global time zones.
Let me explain how it works.
When we use Jin Shin Jyutsu self help exercises on ourselves, this not only harmonises our individual energies, it also has a powerful harmonising effect on our external environment.
Bearing this in mind, it would be DYNAMIC to work TOGETHER around the globe, so I am organizing this EVENT, the first of its kind.
In essence, I am looking for a '100th monkey effect' scenario; a tipping point to effect change, to harmonise chaos in the world born out of revenge and mis-understanding.
One of the energy sites we work with is called Harmonising Chaos. It is energy site or Safety Energy Lock (SEL) number 24, and it is found on the foot.
Exercise
The objective is to harmonise energy site number 24 by following Mary Burmeister's three exercises in her Self Help Book 2 as follows:
1. Give MYSELF a hug (hold SELs 26) (20 minutes) (image 1)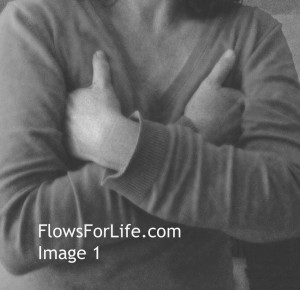 2. Hold left little finger (10 minutes) then hold right little finger (10 minutes) (image 2)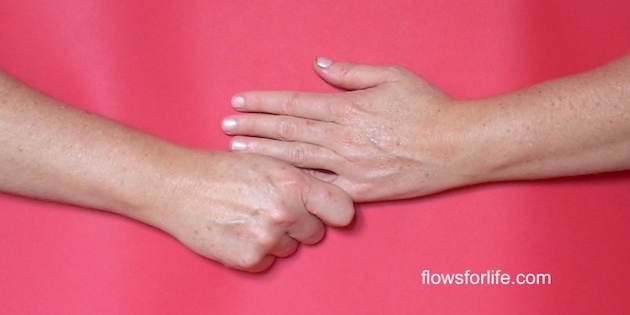 3. Hold left SEL 26 with right hand and place left hand on left SEL 15 (10 minutes) then hold right SEL 26 with left hand and place right hand on right SEL 15 (10 minutes) (Image 3)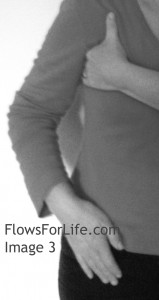 I have already had confirmation that people in OVER 30 COUNTRIES will take part. There are people in many states in the USA taking part as well.
Will you also participate to effect change?
Sending you a Jin Shin Jyutsu hug.
Astrid
PS If you can't make it at 6 pm your time, then join in with another time zone whenever you can!
Want to learn more?
Join our Jin Shin Jyutsu Community today!