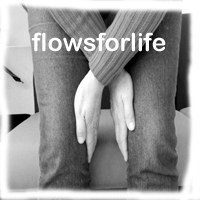 The mover and shaker in Jin Shin Jyutsu is the energy site that is found on the inside of the knees: the energy site that is number one.
This one is truly the Power of One! People have told me that when they held their ones for an hour every day, their lives changed!
So, if you feel stuck, start holding the inside of your knees. It doesn't matter whether you cross your arms or not – do whatever feels comfortable for you. Hold at least for 20 minutes at a time if you can.
It's wonderful that Jin Shin Jyutsu can help us move the energy so that we can get 'unstuck' and open up to receive the abundance that life offers.
It's ALL about harmonising the breath to let go of the old and let in the new.