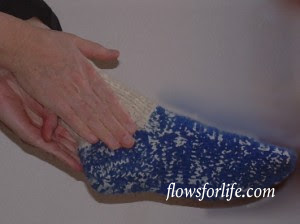 I have experienced many incidents when I was able to manage and control pain in my body with Jin Shin Jyutsu holds. It constantly amazes me that knowing where to put the hands on the body can have such a dramatic and speedy effect!
This is one of my most dramatic and personal experiences of pain relief:
My father was in hospital and had just come out of surgery when I got to his bedside. The anaesthetic was wearing off and he was in much pain. His face was all contorted and he was hanging on for dear life to the side rails of his bed.
I went straight for his right foot. I placed my RIGHT fingers on the INSIDE of his RIGHT heel (below the ankle), and my LEFT fingers on the OUTSIDE of his RIGHT heel (below the ankle). I held, without any pressure, without any massage. (For the left foot, hold the inside of the heel with the right fingers and the outside of the heel with the left fingers – same as the right)
Within a few moments (literally) my father opened his eyes, exhaled, and said: 'Yes, that's definitely better.' After a while I let the nurse take over with the morphine….
See the video of the self help hold for fast pain relief here: